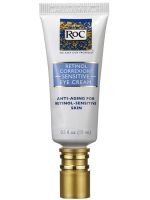 Retinol is best used at night

If you use this during the day, you are wasting your money because retinol is only effective at night, according to the research I did. This is a fine daytime eye cream.

Retinol Correxion

I cannot speak to the ability of this product to diminish wrinkles/ fine lines; I'm only 21 so I don't have any of that going on. I can however, say that if you are hoping for an eye cream to lighten under eye circles, then you would do well to try this cream. I do not have terribly dark under eye circles, but they are noticeable which is why I figured I'd try a cream to lighten them up a bit & m...read moreaybe keep future lines at bay. I have only been using it for a little over a week but I notice a significant lightening of my under eye circles! The skin around my eyes is smoother. It also helps prevent tired looking eyes the next morning if you didn't get enough sleep. The texture of this cream is very, very light. It absorbs quickly without any greasy residue & doesn't sting my skin at all (this is the first time I am using anything with retinol in it, but I also don't have very sensitive skin). As a bonus, I use a dot of it on blemishes & it helps them heal much faster & prevents acne marks. I love this stuff.

minor irritation

Goes on smooth but I had some minor irritation to my sensitive skin. It kind of felt like I had sunburn on the eye bone. I didn't notice any change in my skins appearance. too expensive for just ok.

Back
to top