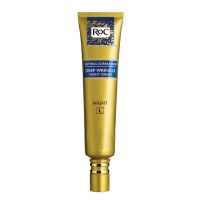 Forget it - you're wasting your money.

I rescind my previous rating. I used 2 bottles for 2 months and it did absolutely nothing. I got a prescription for the real retinol and it works. There is not enough of any retinol in this product. I. was told by an expert that manufacturers do not put enough of a good product in their product to make you buy more. Word to the wise. Don't believe what you hear from salespeople - because th...read moreat's what they do - sell. They pose as estheticians by wearing lab coats. I was even told by a salesperson that they have a quota they have to make, or they're fired! Please see my profile for what I have done about wrinkles. No more paying $80 or even $27 for products that do not work!

Nice correction control product

I really like Roc Retinol Correction night cream. It works wonderful on wrinkles and lines. I have seen great results with this product

Works great

I got this for my aunt who is sensitive to Retinol. My mom has been using Roc products for a while as well, so I figured my aunt might like this product as well. I was right, she loved it! It didn't bother her sensitive skin at all. And while it hasn't magically erased her wrinkles (after about a month of use), she's happy to say that her skin does feel healthier and more supple. For example, it d...read moreoesn't hurt her cheeks when she smiles. Yikes! Can't go through life not smiling because it would hurt otherwise! She did mention that you have to use very little, as this stuff is quite potent and will turn your skin oily. But if you figure out just the right amount to wear, you'll be happy with the results. I saw her the other day and her skin really does look more even in color and texture. No more dry/oily patches! Would highly recommend to people sensitive to Retinol.

Back
to top