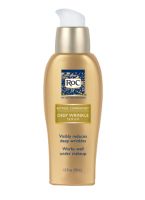 Use during the daytime

Retinol is only effectivre at night according to my research. I use the Retinol Correxion deep wrinkle cream at night and it really works. And, it's a good idea to start with a serum, then the wrinkle cream, followed by night cream.

WOW

My mom began using this and within one month her skin was free of deep wrinkles!! She smokes, so she had a lot of them. It really smoothes out the eye area. Just don't use it around them if the eye area is dry.

Well done Roc!

Sweet retinol, how I love thee! For $20 you can't go wrong. I've been using this serum for about a year now and it really does what it says. I had to build myself up usage wise. I started using it every two days, then every other day and now I use it twice a day. It stings a bit at first but don't give up! My laugh lines are less pronounced, softer and seem yo be slowly fading away. Keeps my skin nice and soft too.

Back
to top