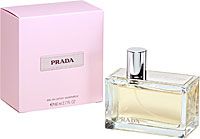 My pump does not work properly

I am sad to report that my pump (or the dip-tube) does not work well. Unfortunately, I bought it overseas, therefore, I cannnot bring it back or exchange it at the store. The Prada's website is not helpful when it comes to the customer service. Make sure that the bottle works before purchase it. Other than that, it smells lovey and I do like the simple bottle design.

A Little Strong

After the rave reviews of some people, I thought I'd try Prada. After all, I do like oriental scents. It came off, unfortunately, a little too strong. I could try it again, I suppose, but the price tag is a big turn off. It's great to be able to try these scents at Ulta. It let me see that Prada may be more name than product. But like I said, I wasn't completely disgusted. It just seemed like a scent for a woman strong enough to wear it.

Too heavy

It is not a fragrance I would go after especially $90 worth. Did not like it at all too overbearing.

Back
to top