Why It Wouldn't Be Summer Without Pink and Bronze Blush

Posted 07/24/12 at 01:46PM by Rebekah George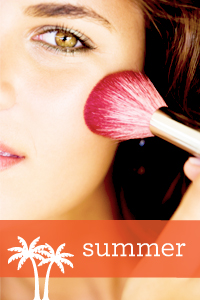 Those who know me know that I'm all about summer combos. Coral and turquoise clothes? Check. White wine and lobster? Oh, yeah. Blush duos in bronze and pink? My summer staple.
While coral can be tough to wear and white wine gives some people a headache, bronze and pink blushes are universally flattering -- and instantly impart an effortless summer look. What's not to love?
You used to have to buy a separate bronzer and pink blush to master this look. But now brands are creating palettes with the color combo. You can swirl your blush brush all over the palette to mix the tones or layer on the colors to create different looks and highlight cheekbones. (Just be sure to toss the Barbie-size blush brush and invest in a really big one to master the look.)
Also, don't think these palettes are just for your cheeks. I apply them to areas where the sun hits you -- cheeks, chin, bridge of my nose, and even a dab on my lids. Here are the three that are in my summer beauty bag (as well as the two old school products that may not be a duo but that I just can't bear to part with).
Nars Highlighting/Bronzing Blush Duo
, $40: This comes with the cult fave Orgasm blush (ya know that peachy-pink shimmer that every makeup artist loves) and Laguna Bronzer (a sheer light brown).
Stila Baked Cheek Duo
, $24: For a more delicate, softer look, this duo gives you flushed cheeks and slightly bronzed skin.
Too Faced Peach Leopard Brightening & Perfecting Bronzer
, $28: With peach, chocolate, and bronze, this palette helps neutralize redness and blotchiness and leaves you with a sun-kissed glow.
CoverGirl Cheekers Blush in Plumberry Glow and Deep Bronze
, $3.99: Not only are these awesome classic blushes less than $4, but the colors give you a really natural bronze and the perfect pop of pink. Apply the bronzer on your cheeks, chin, nose, and temples and then top your cheekbones with the pink color for a sensational summer look.
Those are my go-to summer blushes, now, why not check out which products my colleague, Audrey,
always has within reach
?

Our Expert Guides