The VIP (Very Impressive Product) Pick of the Week #38

Posted 12/23/11 at 11:08AM by Audrey Fine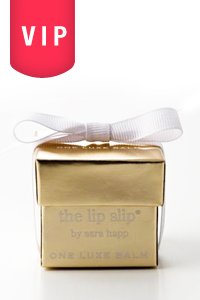 The Product
:
The Lip Slip By Sara Happ
The Price
: $24
The Promise
: "A balm like no other, The Lip Slip leaves no color, just the richest, glossiest hydration imaginable. Wear it all day. Wear it overnight. Results are immediate. We'd have it no other way."
The Real Deal
: Regular readers of this column know that when it comes to having
smooth, crack-free lips
, I'm more than a little obsessed. That's why a couple of times a month I'll open my mailbox to a puffy envelope containing a new lip balm for me to try -- my friends, you see, are in a competition of sorts to see who can find "The World's Greatest Lip Gloss" for me. (Never mind the fact that I'm a beauty editor and am bombarded by the stuff at work. They care, so they compete. Bless their little hearts.)
Last Saturday I received a package from my sister-in-law in Minnesota. In it was Sara Happ's Lip Slip, and a note saying she was
convinced
she'd found the holy grail of glosses. And, guess what? She did.
O. M. G.
As much as I despise text-type, there's no better way to convey my utter amazement with this product. It's like no other gloss I've ever tried. Smooth and thick but not sticky in the slightest and emollient and shiny all at once -- this gloss is heaven sent. Must be the "polymer blend that took 2 years to perfect" as I've since read on their website. Whatever the reason, this stuff is pure pleasure in a pot.
The Upshot
: This is the winner in my book. There's nothing I don't like about this Lip Slip. It's what I'd have concocted myself if only I knew how. With the discovery of this perfect product, the "find the greatest gloss" game
should
come to an end, but who am I to deprive my friends of the fun of looking?
What's your go-to gloss?

Our Expert Guides