The VIP (Very Impressive Product) Pick of the Week #33

Posted 10/28/11 at 05:13PM by Audrey Fine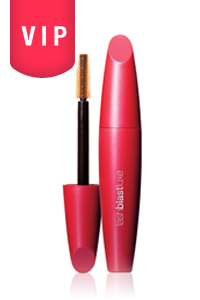 The Product
:
CoverGirl LashBlast Luxe
The Price
: $6.
The Company Spiel
: "The blackest black LashBlast formula, now tinted with Luxe shimmers. The giant Luxe brush helps blast lashes to their biggest, boldest, and most beautifully shimmering."
The Real Deal
: My name is Audrey and I'm a mascara-aholic. Something about the promise of long, lush lashes never fails to get me to plunk down the debit card -- even though I'll probably be disappointed. Again.
Such was the scenario at CVS the other day. I was drawn to this mascara -- or, rather, I was drawn to a photo of Drew Barrymore looking downright lashtastic. And since $6 is a small price to pay for beauty of that magnitude, I went for it.
Boy was I surprised. LashBlash Luxe is aptly named. It lengthened and thickened and darkened my measly lashes and, while I didn't end up looking a thing like Ms. Barrymore, I didn't care because I looked like ME, only with better eyelashes!
The Upshot
: No denying it: this mascara worked to give me what so many before it had failed to -- volumized, long lashes. The formula isn't too thick and doesn't clump, plus the wand works very well to fully coat each lash. I'm beyond tickled.
What's your favorite mascara? Please share -- I'm happy with this for now but I never know when the urge to get a new tube will hit.

Our Expert Guides