The VIP (Very Impressive Product) Pick of the Week #14

Posted 05/05/11 at 04:14PM by Audrey Fine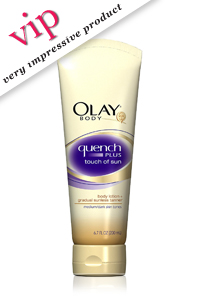 The Product
:
Olay Quench Plus Touch of Sun Body Lotion
The Price
: $8.99
The Promise
: "Moisturize skin and gradually enhance its color to enjoy a beautiful sun-kissed glow all year round."
The Real Deal
: Cards on the table: I spent way too many years lying in the sun. Oh, who am I kidding? I
still
lie in the sun more than I should. Can't help it. I just like being tan, sue me. But, yes, I know that it's
bad
and that I need to stop. And, I have to say that this clever self-tanner is making it a little easier to wean myself off the harmful rays. As a general rule, I abhor the whole faux glow thing. I don't like the way it smells and being orange is not a look I covet (sorry Lindsay). That's why I like this Olay Quench. It's not only a really good moisturizer but the "tan" is gradual and, heavens to Betsy, it actually smells
good
.
The Upshot
: If getting a safer tan can be this easy (and pleasant smelling) I'm willing to keep trying. So far I'm very happy with the color and the hydration Olay Quench Plus Touch of Sun Body Lotion delivers.
Do you have a favorite product we should know about? Share your comments below. And, if you want to know how to choose your best ever
hair color, watch this Total Look video
for expert advice.

Our Expert Guides