My Unbeatable DIY Sea Spray for Beautiful Beach-y Hair

Posted 06/02/12 at 07:15AM by Audrey Fine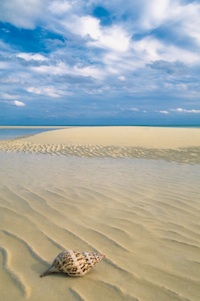 When you think of perfectly messy, beach-y, windswept hair that's to-die-for fabulous, who comes to mind? Giselle? Maybe Jennifer Aniston or Kate Hudson? That's true, those women
do
have great heads of hair and always seem to have that "I just got off a sailboat" look. I hate them.
The only time I'm really ever able to capture that rumpled beach bunny look is when I've really
been
on the beach (or better, waterskiing -- the combo of the water and having my hair dried by zooming around a lake on a boat, is the bomb), but it's kind of tricky to go to the beach before work -- even when you live in Southern California.
I'm not the only person to have reached this conclusion, duh, so that's why sundry beauty brands have tried to bottle that "just finished my third surfing lesson" look. And, while some of them may work, I prefer to try my own hand at a little beauty mixology and save myself some hard-earned green.
Here, after many a trial and error is my prized formula for the best sea spray:
10 oz. of water (heat it so it helps to melt the other ingredients)
8 drops of essential oil (choose whatever you like. I love rose. But coconut sure smells beach-y and Tahitian flower or gardenia work wonderfully, too.)
2 squirts (or, if it's in a tub, teaspoons) of hair gel
3 teaspoons of rock salt (or, if you prefer, Epsom salts)
Pour the water into a spray bottle, then add the ingredients, shaking as you go. Spritz onto damp hair (this is key! If you apply to wet or dry hair, the result will be too crunchy) and gently tousle with your fingers. Presto -- you're now a bona fide Bond babe.

Our Expert Guides