"Plus-Size" Models on the Runway: Fashion Do or Don't?

Posted 09/20/10 at 06:14PM by Total Beauty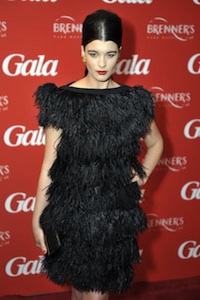 Another Mercedes Benz Fashion Week has come and gone and I've still never set foot inside one of those famed tents. Sigh. There's always next...life.
Luckily for those of us who love fashion and beauty, but can't fathom being fabulous enough to actually attend such shindigs, the Internet brings it all to us. Thanks to this wonderful worldwide web, I know, for instance, that I don't dig Ralph Lauren's rodeo-inspired collection, that I still love Michael Kors (except for all that new bare-midriff stuff) and that "tea-length" fashions will only ever look good on the super-tall and super-skinny.
I also know that I love Crystal Renn. In case the name doesn't ring a bell, she's the former stick-thin model who, after enduring a health crisis triggered by nearly starving herself, gained 70 lbs. and took the modeling world by storm as a "plus size" model.
She's opinionated and gutsy and I admire the heck out of her. Especially how she owned the Gotex swimwear catwalk last week. It takes a lot of guts to strut your stuff in a swimsuit when you're some anonymous chick on the beach -- never mind on the runway in front of the world's press and catty, narrow-minded fashion editors.
I think Renn, with her big hair and her healthy, normal-looking thighs, rocked that runway like nobody's business.
What do you think? Think couture fashion shows should be reserved for only the super-skinny mannequins? Or, do you believe that more realistic models, like Renn, belong there?

Our Expert Guides