The New Braids I'm Obsessed With (And How to Do Them)

Posted 02/24/12 at 05:28AM by Charli Schuler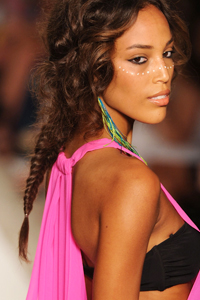 Those of you addicted to braids may recall the
eight unique styles
I featured here last summer. Back then, I was at the onset of a new infatuation. Now, six months later, I'm totally and utterly obsessed.
Seems I'm not alone. Braids -- and various permutations thereof -- are everywhere. These new braids run the gamut from sweet and sensible to wild and elaborate. Some are best worn with accessories, while others are so intricate they look like accessories themselves. From the fan favorite
waterfall braid
to the eight styles featured here, these ain't your grandma's Pippi Longstocking braids -- and they've given me a whole new reason to crave long, wavy, ombre hair.
Here are my current picks for the most copycat-worthy styles -- along with the steps to recreate them. Caveat: Most of these styles take some time, but the results far outweigh the effort.
See the new braids you must try now.

Our Expert Guides