My Makeup Solutions for All Sorts of Summer Weddings

Posted 05/02/12 at 05:25AM by Rebekah George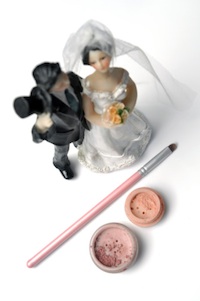 With summer just around the corner, I'm feeling very popular all of a sudden -- well, judging by the countless wedding invitations I've been receiving from friends, family, and colleagues anyway.
The good news is that they're all far enough out that I can take my time and plan. I can figure out what to wear (can't have the same people see me in the same dress wedding after wedding) and of course, how best to do my hair and makeup.
I love getting my hair and makeup done. But I figured since Kate Middleton did her own makeup for her small (ha!) wedding, I can put in the effort to do
my
own makeup as a guest at these upcoming small-but-important-to-me nuptials. Here are my tips for mastering the look for three completely different vibes.
Beach Wedding
: Even though beach weddings tend to be on the casual side, you still need to wear dressier makeup than you would for a day frolicking in the surf. Just be sure to keep the look really soft with subdued shades like peach, bronze, and soft pinks. Remember, the lighting outside is stronger than inside so you can apply less than you would for an indoor wedding. You also want to remember the weather definitely comes into play. That means, heat- and humidity-proof your look by starting with a makeup primer like
CoverGirl + Olay Simply Ageless Serum Primer
, $8.87, use long-lasting liners and glosses like
CoverGirl Outlast Smoothwear All-Day Lipcolor
$7.49, and be sure to bring along blotting papers for plenty of touch-ups.
A blacktie affair
: Formal, evening weddings are fun because you have an excuse to really amp up your makeup. My favorite way to do this is by adding lots of drama to my eyes or lips. If I am adding drama to my eyes, I'll use a smoky gray shadow and liner, and use a peach blush and gloss. Or, if I want to add drama to my lips, I'll use a bright red lipstick and use beige on my lids and a terracotta blush on my cheeks.
For garden parties
: Color is in, especially with makeup, for daytime weddings this year. Whether you are attending a wedding in an actual garden setting or not, daytime weddings allow you to play with lots of different colors like green, rose, and violet on your eyes. You can keep your skin clean and fresh looking with a tinted moisturizer and a soft pinky-peach blush. I also love shimmer on cheeks and beneath the browbone to reflect lots of light. And, as always, lots of mascara completes the look. My go-to these days is
CoverGirl LashBlast Fusion Mascara
, $7.98, because you get lots of volume without having to coat your lashes again and again.
So, there you have it, my pro-culled tips on how to look beautiful at any wedding setting without breaking the bank. Now, once I get to be the bride and not just a member of the party, we'll have to re-group and chat again ...

Our Expert Guides