This Just In: I'm Officially a Grown Up Who Wears Lipstick

Posted 05/05/12 at 04:25PM by Audrey Fine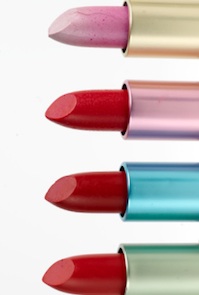 The prospect of having to choose a lipstick color that will flatter my skin tone makes me itch. And the prospect of going to a department store beauty counter for advice is not going to happen. The last time I did that I walked away more confused -- and broke.
So, instead of using any methodology when it comes to choosing a shade, I just choose my lip products willy nilly and end up tossing them into my drawer (and bag, and glovebox) where they languish unused and I keep smearing on the Carmex instead.
Now, I'm an otherwise capable, fully grown woman, and I wanted to get to the bottom of this color conundrum once and for all and figure out which shades would work -- or better yet -- which shades to stay far, far away from.
So, I called a few experts and did some research. Here are the two (very simple) things I found out:
Tip 1:
You want to look for hues that are a shade or two darker than your natural lips -- if natural is what you're going for.
Tip 2:
A good rule of thumb is that pale-skinned women should stick with natural beige tones, nudes, light pinks, and corals. Medium skin tones look good in mauve, berry, and spicy brown hues. Darker girls should go with plums, oranges, and reds. For more hand-holding or if you want a more in-depth color analysis, check out this cool
color finder
that, in addition to lip color, will show you the best shades of eyeshadow, blush, and even hair color for every skin tone.
High on my newfound knowledge, I couldn't wait to swing by CVS and pick up a couple of berry and spicy caramel shades. I found an awesome lip gloss for day (
CoverGirl Outlast Double Lip Shine in Sleek Suede and Rose Quartz
, $9.29) and a stain that will stay put (
CoverGirl Outlast Lip Stain in Wild Berry Wink and Cinnamon Smile
, $7.99). Mission accomplished. Now if I only knew how to apply them properly ...

Our Expert Guides