The Importance of Wearing Makeup Under Your Glasses

Posted 03/30/12 at 12:40PM by Charli Schuler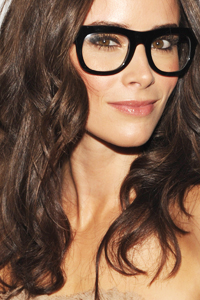 That old saying "guys don't make passes at girls who wear glasses" is antiquated and lame. However, it's true that if you do wear glasses (and
want
guys to make passes), you need to remember to spend at least a few minutes on your eye makeup. If you don't, your eyes will all but disappear behind those Foster Grants.
I should know. Whenever my eyes are screaming for a break from contacts, I slip on my glasses and instantly notice a difference -- my eyes become invisible behind the specs and I need to tweak my makeup accordingly. Not a big deal at all, but it's a necessary one.
As seen on bespectacled celebrities and trendsetters, the tiniest bit of makeup can make a difference between geeky and gorgeous. (But, it's a happy medium -- you don't want to look like an oversexed librarian.) Consult the following looks for proper inspiration, along with tips on how to tailor your makeup to your frames.
See how to look gorgeous in glasses now.

Our Expert Guides