How I Shorten Showers to Streamline My Morning Routine

Posted 05/15/12 at 06:07AM by Rebekah George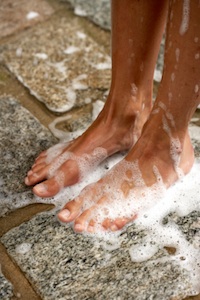 Mornings for me are always very rushed and more than a little crazy. I'm usually running around like an insane person trying to get dressed, finish various work projects, dry my hair, and put on my face -- all within a matter of a few short minutes.
It's too much, really. So, in order to carve out more time on busy mornings, I've arrived at an "express" version of my beauty routine that helps get me out the door more quickly -- and sanely. The best part? It's easy to implement because all you have to do is spend less time showering!
Here are some tips to help you get out of the shower a little faster:
Skip the hair shampoo
: It shocks me to know how many ladies out there wash their hair every day. Not only is this stripping your hair of natural oils, it's also eating up a good chunk of time in the shower. One of my biggest tips for women is to wash their hair every other day and use dry shampoo on the off days. I love
Ojon Full Detox Dry Shampoo
, $24, which leaves my hair feeling clean, fresh, and smelling great. Just comb it through or spritz it directly on your roots, and hit your hair with the blow dryer for a few minutes to help pump up your volume.
If your hair is on the dry side, you can rinse it with water and then just use a super hydrating conditioner, like
Pantene Pro-V Nature Fusion Conditioner
, $4, to help keep hair moisturized and smooth.
Express exfoliate
: If you're like me, you like to exfoliate every time you're in the shower. Removing dead skin cells leaves your skin feeling fresh and clean -- but it takes time. If you're looking to save precious minutes, use a body wash infused with a light exfoliant which, when used in conjunction with your washcloth or loofa, will remove dead skin cells and save time. One of my favorites is
Olay Total Effects Exfoliate and Replenish Advanced Body Wash
, $11.
Shave, smooth, and hydrate
: If you must shave every time you shower, try a razor that is also hydrating and contains a built-in shave cream. I like the new
Venus & Olay Razor
, $10.99, which has built-in moisture bars and five blades, so you get a closer, smoother shave. Plus, there is less pull, so you can shave faster without getting nicks, scratches, and razor burn. In the summer, this razor even keeps legs hydrated enough that you don't have to use lotion after your shower.
Remember, cutting down on your shower time isn't only beneficial to you time-wise and for your skin, it's also beneficial to the environment. The average shower lasts eight minutes and uses about 17 gallons of water. Cutting yours down by just three minutes conserves at least 6 gallons of water.
Here's another quick trick for
days when you skip the shampoo
.

Our Expert Guides