How I Plan to Survive Sandal Season

Posted 06/19/12 at 05:34AM by Cinya Burton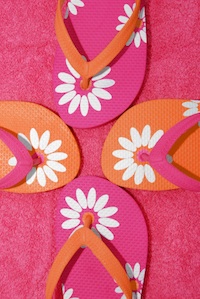 It's official: Open-toe season is here.
While many women are happily celebrating by breaking open boxes of strappy sandals, espadrilles, and wedges, I toast the warm weather by slipping on my favorite pair of Rainbow flip-flops.
Sure, fashionistas cringe at such a casual choice of footwear, but I've just never been much a heel gal. But, while wearing flats guarantees no painful blisters, crammed toes, or back spasms, like any open-toed accessories, they do leave my feet exposed to a variety of seasonal woes like dirt, grease, and tacky tan lines.
To avoid these issues I always rev up my below-the-ankle beauty routine. This year I got some surprising tips while chatting with nail guru Deborah Lippmann, including the easiest tricks and best products to ensure my feet stay flawless this summer.
So, whether you're a heel lover or a flip-flop loyalist like me, you'll definitely want to stock up on these sandal season essentials.
Smooth out
Maintaining that soft, I-just-got-a-pedicure skin is entirely possible at home. "Keep your products in the shower and spend 30 seconds on each foot, twice a week," says Lippmann. Apply a grainy exfoliant such as a sugar scrub (she likes
Fresh Brown Sugar Body Polish
, $65) first, then tend to rough spots with a softening spray such as Lippmann's
Get Off Callus Softener
, $38. "Allow the spray to soak in for two to three minutes and then rinse it away." No Pedi-egg or supersized file required!
Pamper and protect
Immediately after you get out of the shower, apply a cream such as
Olay Soothing Cucumber Body Lotion
, $4.99. Since tan lines look bad no matter where they appear, you'll want to avoid the tacky stripes by opting for a foot lotion with SPF or layering a sunscreen over your moisturizer. I like to also apply a bit of baby powder in between my toes to soak up the extra grease from the sunscreen.
Towel off
Flip-flops may be some of the most comfortable shoes, but they sure do kick up a lot of dirt. At the end of a long day, the soles of my feet are almost black from the buildup! When I don't have time for a soak, I pull out
Earth Therapeutics Tea Tree Oil Wipes
, $5.99, which get rid of unhealthy bacteria, grime, and stink with one simple swipe.
Tend to your toes
To avoid chipping, breaking, and dirt under your toenails, keep your nails short (you'll want to file once a week). "The length of the toenail should never hang over the toe," says Lippmann.
Another way to make your piggies look pretty in an instant? Go bold. "Brighter colors complement tan skin," says Lippmann. This season's trendiest brights are anything neon. But if chartreuse and magenta are a little too loud for your taste, Lippmann suggests opting for the universally flattering coral shade, such as her own
Girls Just Want To Have Fun polish
, $16.
How do you keep your feet flawless? Share your tricks and favorite products below.

Our Expert Guides