How I Mimic Paris Fashion Week Beauty

Posted 07/20/12 at 08:35AM by Cinya Burton
If you're like me, you spent last week ooh-ing and aah-ing over the latest runway looks at Paris Couture Fashion Week. Sure, there were a few SMH moments, like the Cindy-Lou Who updos at Alexis Mabille (see, below) but otherwise, I was smitten.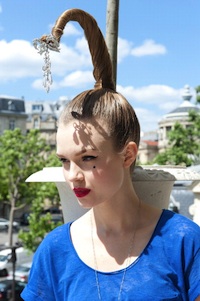 Here's the thing: Those avant garde looks may seem over-the-top, but they really forecast what's going to be huge in beauty come autumn. You just need to know how to translate the outrageous hair and makeup into real, wearable looks.
Being able to decipher the looks puts you ahead of the beauty bandwagon, always a plus. That's why I pay attention to every model coming down the runway and take mental notes of which lip colors to buy and what hairstyles I should start practicing. Check out a few of my favorite looks from 2012 Paris Couture Fashion Week and how I plan to wear them.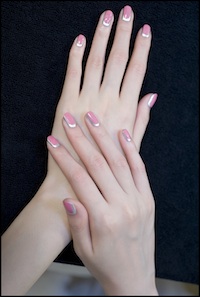 Halo Manicure at Chanel
Last year the half-moon mani was all the rage. This year, the new halo style seems poised to take its place. Who needs bright tips when you can outline your entire nail? At the Chanel fashion show models had pretty pink digits with silver linings. While I may not use this color combo (I'm thinking of trying two similar blue tones first), the new effect is a must-try.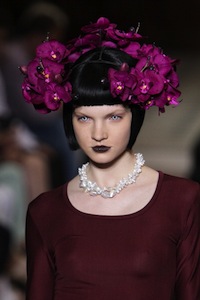 Dark Lips at Didit Hediprasetyo
Dark lips have been the top prediction for fall makeup trends since half of Hollywood showed up in burgundy shades at the Met Gala in May. But just in case you need any more convincing, models at Didit Hediprasetyo displayed black pouts. I plan to try out this vamp trend with sheer wine-colored lip gloss before diving into the deeper plum lipsticks.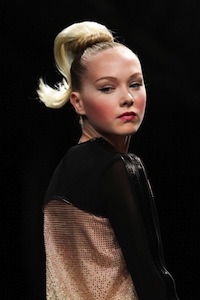 Retro Ponytails at Julien Fournie
Ponytails were all over the spring shows, but the latest update came from Julien Fournie. Taking a page from the '60s styles, models wore high ponys with flipped-up ends. If your pony is a bit limp (like mine often is) this is the perfect solution. Plus, look how well it pairs with the retro cat-eye.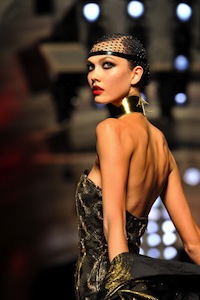 Smoky Eyes at Jean Paul Gaultier
It's nearly impossible to make an all black eyeshadow effect look sexy. Yet, somehow the models at Jean Paul Gaultier managed to nail it. I've never been able to produce a smudged eyeliner effect that isn't raccoon-like, so instead I'm going to lighten it up by just rimming my inner waterlines and skip the smearing.
What did you think of the Paris Haute Couture Fashion Week looks? Dish your thoughts below.

Our Expert Guides