How I FINALLY Learned to Get a Smooth (Nick-Free) Shave -- Every Time!

Posted 05/25/12 at 05:52AM by Audrey Fine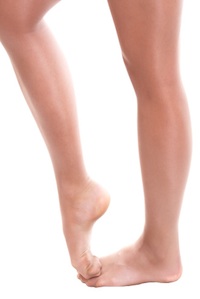 Even though I've been shaving since Reagan was president, I still haven't quite gotten the hang of it and manage to nick myself more often than I'd care to share. When my daughter asked me why I almost always have a Band-Aid on my Achilles tendon, I decided that it was time to shelve the pride and ask an expert what the heck I'm doing wrong.
Enter Claire Girdler, a Venus Scientist, here's what she had to say about
why
we continuously cut ourselves and what we can do to stop it.
The Problem: Using less-than-stellar implements
"Inferior-performing products, such as single blade razors, can cause nicks and cuts. However, a multi-blade technology, featured in all
Venus
razors, utilizes progressively aligned blades that help aid the reduction of drag on the skin. Each blade in Venus razors is spring-mounted, allowing each one to individually adjust to the curves and contours of the body, enabling them to stay in contact with the skin, even on tricky shaving areas such as the knees and the ankles." (Editor's note, try
Gillette Venus Embrace
, $8.)
The Problem: Shaving with an old, dull blade
"Make sure to change your blades regularly as blunt blades are not effective and may also increase the risk of irritation. Using a dull blade may result in you pressing harder during a shaving stroke, which can also cause nicks and cuts."
The Problem: Razor slippage
Another reason for nicks and cuts is side-to-side razor slippage. The razor should only ever be moved in the direction perpendicular to the blades; never move your razor side-to-side over your skin. To prevent the razor slipping in your hands, use a razor with a handle designed to give greater control in a wet environment.
The Problem: Putting excessive pressure on the razor
Women occasionally apply too much pressure to their razor. To help prevent unwanted nicks and cuts, use a light touch, exerting as little pressure as possible, and shave in the direction that feels most comfortable.
Yip-tastic. With these pro tips cemented in my mind, I'm practically guaranteed a Band-Aid-free summer.

Our Expert Guides