My Great Girls' Getaway: A Sneak Peek Inside My Toiletries Case

Posted 02/07/12 at 09:42AM by Total Beauty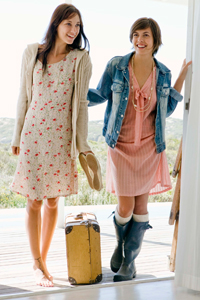 In exactly two days, 18 hours, and 34 minutes (yes, I've got a New Year's Eve-style countdown going), I will step off a plane in Cabo San Lucas, Mexico, to meet my two best girlfriends. The three of us are besties from our undergrad days, and we've got a weekend packed with poolside lounging, margarita sipping, and non-stop catching up planned.
I'm so excited for this trip that I've already started packing, and after stuffing the last bikini into my carry-on, I had an epiphany: I'm more psyched about my toiletries than my wardrobe. In the last few months, I've come across a handful of really great products. The best part? They're all TSA-approved. Here's what's in my cute toiletries case:
Crest 3D White Whitestrips Professional Effects
, $49.99
Wear these strips for two hours at a time and after five days, you'll have a noticeably brighter smile. I'm three days in and already see a huge difference.
SK-II Signs Nourishing Cream
, $130
This stuff is amazingly hydrating, not at all greasy, and leaves my skin feeling baby-soft. It's spendy -- but worth every penny.
Frederic Fekkai Summer Hair Beach Waves
, $22
It smells heavenly (think tropics-coconut) and just a few spritzes make my naturally-wavy hair look more polished and "done."
And for a product that's just about to hit store shelves ...
Gillette Venus & Olay Razor
I've always been a huge fan of the original Venus razor, but this one gives me an even closer shave
and
leaves my legs feeling softer than any other razor I've ever used. It's coming out soon ... be on the lookout!

Our Expert Guides