EXPERT Q&A: Your Summer Hair Problems Solved

Posted 08/05/11 at 09:26AM by Audrey Fine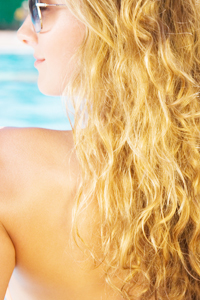 It's that time of the month -- "Expert Q&A" day -- and for August, we have the honor of welcoming hair guru Michael Dueñas, the brains behind the ingenious
Hair Room Service
company that dispatches stylists to your house, hotel, etc., into the My Beauty Life fold.
Here's Michael's advice for four hair-challenged Total Beauty readers ...
Q: No. 1: My blonde hair has turned green from the chlorine in my pool. Is there anything I can do to get it out?
Michael Duenas:
You have a few options. 1. Take a few tablets of aspirin and let them dissolve in water. Once dissolved, rinse your hair with the water and shampoo with a clarifying shampoo. 2. Neutralize the green by applying tomato juice or tomato paste. Red is the opposite of green, and this works nicely. 3. If the other two tips don't work, wash your hair with Dawn dishwashing liquid. It will strip everything out of your hair; but beware, this fix may also dry your hair out.
Q: No. 2: My hair feels like straw from all the sun and swimming I've done this summer. How can I bring it back to life it without spending a fortune?
Michael Duenas:
If you want to keep the remedies cheap, try these products first, they may sound gross but they work wonders:
Mayonnaise
All the protein from the eggs and cream helps strengthen your strands while adding moisture.
Peanut oil
This oil is power packed with nutrients -- especially when it's taken from natural peanut butter. You can also purchase great oils from your beauty supply store. Try Obliphica Oil (Sea Buckthorn Berry), which has 15 times the amount of vitamin C that an orange has.
Omega 3, 6, 7, and 9
Put omega-7 in your hair after swimming or before you're out in the sun and you'll see huge difference in your hair's texture (it'll be silky smooth) and color (hello, shine!).
Q: No. 3: I feel like the sun has made my hair color fade -- is there any way I can revive it?
Michael Duenas:
If your color fade is minimal, try a tinted shampoo and conditioner (but keep in mind these may stain your hands). If the color fade is more drastic, stop in to see your hairdresser and ask for a toner, gloss, or glaze (different words for the same thing). This is a simple, quick, and effective way to stretch the wear of your color. Make sure you use color protective shampoo and conditioners, too -- they'll help your hair hang on to the color longer.
Q: No. 4: I want to bring some "light" to my dark hair color for summer, but I don't want to go totally blonde. What are my options?
Michael Duenas:
Look into Pintura or Baliage. These are ways to lighten your hair and look completely natural. Your hairdresser will lightly hand paint (no foils) blonde streaks into your hair, giving it the perfect sun kissed look. Or try for a traditional partial highlight; just make sure to go light on the foils. You can also go the route of the "ombre" or color melting look. Start with a natural tone on your roots, and slowly melt the color lighter as it gets to the ends. Nothing looks more natural than that!
Want more pro tips? Check out the
Expert Q&A archives
-- it's a goldmine of information.

Our Expert Guides