Expert Q&A: Your Questions About Bikini Area Shaving -- Answered

Posted 03/09/11 at 08:58AM by Claire Girdler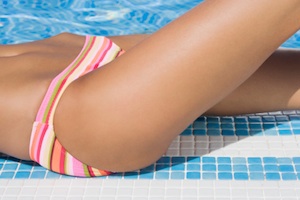 Shaving your bikini area can be challenging. You can end up with unsightly razor burn, ingrown hairs and/or painful nicks and cuts. What's a girl to do? Consult an expert, of course. (Which is exactly what we did.) Here to answer questions about getting the smoothest bikini area shave possible is Venus Scientist, Claire Girdler.
Why is the area so difficult to tackle?
"The bikini area differs from legs not only in the amount of surface area, but also in the direction of hair growth and the moisture content of the skin, Girdler explains. "The hair in the bikini area grows down and toward the center and tends to be more dense, coarse and curly than hair on the legs or underarms," she says noting that at the same time, the "skin in the bikini area is particularly sensitive and is also much less taut than the skin on the legs, providing more resistance for the razor." Talk about a double whammy. Happily, as Girdler says, "shaving the bikini area doesn't have to be difficult."
What method should be used in order to get the smoothest shave?
Tip 1
: "It is essential to prepare the skin and hair prior to hair removal," Girdler says. "It is advisable to shower or bathe beforehand to ensure that the hair is hydrated with warm water for two to three minutes. Hydration of the hairs makes them significantly softer and easier to cut, which reduces the feel of tug and pull of the hair during shaving."
Tip 2
: "To help further soften hair and to ensure the razor glides easily over the skin, use an ample amount of shave gel," advises Girdler who recommends
Satin Care Pure & Delicate Shave Gel
, $3.79, because "it's been formulated without perfumes or colorants to minimize the risk of irritation."
During the Shave
:
Tip 1
: Use a multi-blade razor such as
Gillette Venus Embrace
, $15.99, which has "been specifically designed to offer women a smooth, comfortable shave and also has an ergonomically designed handle to provide ultimate control in hard to reach places such as the bikini area. (Make sure the razor blades are changed regularly -- after every 5 shaves -- blunt blades are not effective and it is best to take as few strokes as possible in the sensitive area of the bikini line.)"
Tip 2
: "Shave with light, gentle strokes exerting as little pressure as possible," Girdler says, explaining that pressing too hard increases "the chances of bikini irritation."
Tip 3
: Pulling the skin taut will "minimize any damage to the skin and will also help the blades cut closer to the skin, resulting in a closer shave."
Girdler also says that although there's conflicting advice about going against or with the grain, "for the delicate skin in the bikini area, it is advisable to shave in the direction that feels most comfortable."
Do you have any post-shave recommendations to help keep the area reaction free?
Tip 1
: After shaving, Girdler suggests rinsing with cool water and patting dry.
Tip 2
: Apply a post-shave treatment, like Olay Bikini Lotion, available as part of the
Venus Bikini Kit
, $11.89. (Our readers also like
The Art of Shaving After-Shave Body Milk
, $36.) Girdler says that "regular exfoliation and skin moisturization will help reduce the occurrence of ingrown hairs," so it's important to use a product that contains an emollient (like lanolin, shea butter or triglycerides) and an exfoliant (like salicylic or lactic acid).
Now that you know how to shave your bikini area like a pro, learn how to get incredibly
touchable skin
all over.

Our Expert Guides