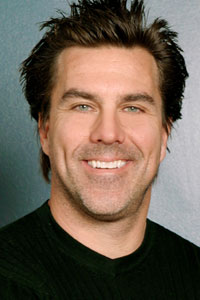 Mitch Stone
Mitch grew up outside Malibu, CA where he learned to love the ocean and the beauty of his surroundings. Mitch had a desire to be creative dabbling in various arts. One day he spoke to his own hairstylist about a hairstyling career and the idea inspired him. He enrolled immediately in hair school, became passionate and absorbed all he could. He began assisting at Sebastian International and soon one of the founders took him under her wing.
After two years assisting, he began getting his own clients and they multiplied rapidly. His career left the salon when three of his clients were cast in the same movie. When the director heard all his actors asking for the same hairstylist he was intrigued and Mitch's career took another jump.
A few years later Mitch picked up and moved to New York where his career advanced again. Within six months of the move he was working with photographers such as Albert Watson, Arthur Elgort, and Peter Arnell. Mitch was also popular in the fashion show circuit working with Cynthia Rowley, Adrienne Vittadini, Patricia Field, and Armani. He also worked on advertising campaigns for Pantene, Victoria's Secret, Rayban and Redken and many more.
Since moving back to Los Angeles, Mitch has been working in earnest with celebrities. His clients include Kim Basinger, Kristen Davis, Brooke Shields, Minnie Driver, and Kyra Sedgwick to name a few. His work has been featured in numerous publications including "Elle", "Vogue", "Vanity Fair", "InStyle", "Rolling Stone", and "Town and Country".
Celebrities that met Mitch on still shoots began requesting him for films and television. He has worked with Kim Basinger, Jim Carrey, and Helena Bonham Carter for films and worked with the cast of Friends, Ellen DeGeneres, and Teri Hatcher for television. Mitch now joins an elite group of hairstylists, having received Academy Award recognition for his hair designs on the movie Lemony Snicket. When Mitch isn't busy styling hair he enjoys photography and surfing.
Our Expert Guides