The DIY Tricks I Use to Keep My Lips Super Soft

Posted 12/23/10 at 09:41AM by Audrey Fine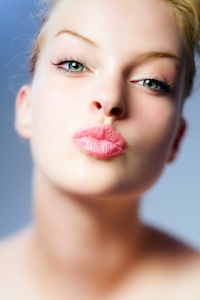 By late December we've been inundated with "save your winter skin" articles. And, frankly, sometimes it's hard to weed out any nuggets of good information among the fluff. Over the years, however, I've gleaned a few grains of wisdom for getting (and keeping) my lips incredibly soft -- they never get chapped and are always supremely kiss-worthy.
And, this being the gift-giving season, I'm going to share my go-to tips. The best news? You won't have to plunk down a wad of cash for a high-end lip polish or treatment kit!
Step 1
: Exfoliate. As with your skin, the secret to keeping your lips soft and smooth is to exfoliate -- removing dead skin cells to make way for fresh new ones is of paramount importance if you want them to be soft and chap free. You can do this in a couple of ways. Add sugar to your favorite lip balm or make a paste of baking soda and water and use as a scrub, massaging your lips gently with your fingers. You can brush your lips with a toothbrush and some petroleum jelly. Or, use a wet washcloth to whisk away dry, dead skin.
Step 2:
Moisturize. Applying heaps of lip balm to un-exfoliated lips doesn't do much since the product can't seep into the skin. Once they're prepped though, your lips are ready to receive some love in the form of moisture! I use a different balm at night since I want sun protection during the day, but you can glom onto whichever works best for you and use it 24/7.
Want some more good tips? Read this
Expert Q&A
-- it addresses women's top five winter skin questions.

Our Expert Guides