Bad Skin Got You Down? I Give You Full Permission to Use My Go-To Skin Imperfection Fix

Posted 08/31/10 at 08:20PM by Total Beauty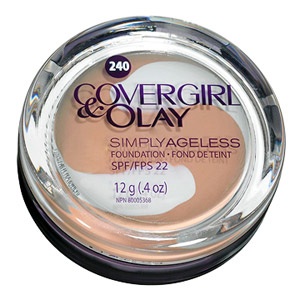 The best thing about being a woman of "a certain age" is that I don't get zits anymore. Gone are the battles with blemishes and, for that, I'm totally stoked. What I'm not particularly tickled by, however, is how all of a sudden the years of havoc I've wreaked on my skin are starting to take their toll. My complexion is mottled as a result of too many hours clocked baking in the sun. I honestly look like a ruddy mess without makeup -- which kinda sucks since I'm not big on primping.
Happily, I've found that something as simple as swapping your regular day cream for a tinted moisturizer (like
CoverGirl CG Smoothers SPF 15 Tinted Moisture
, $6.99) can really make a big difference in your skin tone without delaying your day at all.
When I'm heading somewhere that people are really going to
see
me (unlike, say, school drop off), I make more of an effort to cover up the blotches and broken capillaries by using a concealer -- it's much more effective (and, I think, natural-looking) than wearing a full face of foundation.
The key to concealer is finding the right shade. This is crucial. If you get one that's too dark it'll look unnatural (even if blended well). Too light, and it'll draw more attention to unsightly spots. Concealer, like Goldilocks' porridge has to be
just right
.
Various pros suggest testing colors on your neck and recommend shades that are a teeny bit lighter than your actual skin color since the color will always darken a bit as the day goes on -- it often oxidizes with wear.
Once you've found your shade in a consistency you like (my fave is
CoverGirl and Olay Simply Ageless Corrector
, $12.99 because it covers really well
and
contains the Olay Regenerist Serum, but you want to be sure to apply it properly. I've found that simply smearing it onto problem areas doesn't work in the slightest. Instead, dot it onto the uneven spots and tap it in using your fingertips or a makeup sponge.
It's really amazing what a bit of concealer can do for a girl. It's like using the "eraser" tool in Photoshop -- suddenly, your complexion looks almost flawless.
What's your go-to makeup fix?

Our Expert Guides