The Scoop from Makeup Artist Emily Warren Backstage at Preen

Posted by emilykatewarren on September 8, 2008 at 07:59PM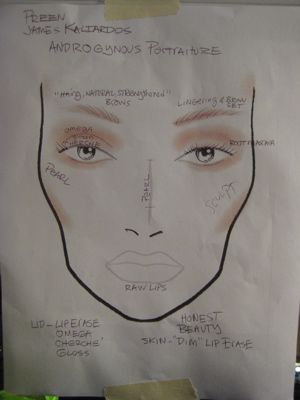 Hello from Bryant Park! The stages are set, the bass is pumping -- backstage at Fashion Week is crazy busy and thank God I'm smack in the middle of it! I'm New York City makeup artist Emily Kate Warren and I'll be guest editing this week (as Kristen mentioned) to bring you the beauty scoop from behind the scenes.
I've just finished the Preen show, keyed by makeup artist James Kaliardos. James came up with a look he called "Androgynous Portraiture" which, as you can see from the rendering, is basically natural tones applied in places where they'd naturally be, with a little extra punch and a slight masculine edge. He demonstrated the look, then it was time for me to set up. I promptly encountered two challenges: 1) I spaced and forgot a few important makeup items from my kit -- clear mascara for brows, tissues and disposable mascara wands -- at home. Argh! 2) I was starving and my stomach was making noises loud enough for all to hear (so embarrassing). In emergency mode, I quickly made friends with my "table-mate," Tonya from Maryland, who was kind enough to share some of her stuff with me (thanks T!). And next I dashed to the catering table to scarf down a yummy hummus and veggie wrap before the photographers spotted the food!
After snagging my first model (you have to ruthlessly grab them as if they were the last pair of Marc Jacobs flats at a Barney's warehouse sale!), I realized her skin was already very beautiful. I added just a touch of concealer here and there, then jumped right into the shadow application. First, I swept a muted brown powder shadow across her lid right below the bony area of her eye socket, in a half moon shape. Then I dragged a bit more of the shadow along the lower lash lines. Next I pressed a glossy cappuccino-colored cream shadow from her lash lines upward to meet the bottom edge of the powder shadow. I was impressed with how much dimension it added to the look!
The brows were supposed to look kind of untamed and hairy -- but still shapely (does that make sense?). So I dusted the same powder shadow into her eyebrows making them look slightly more intense. Finally we set them with a clear brow gel. A swipe of mascara on the upper lashes, concentrating on the roots, finished the eye.
A neutral brown powder cheek color applied in a triangular shape in the hollows of her cheeks intensified the bony parts of her face. And to accentuate them even more, I swiped a pearl-colored highlighting cream her cheekbones. Voila! Androgynous Portraiture (I hope!). Now all I had to do was get James's approval. It's always a bit nerve-wracking approaching the lead artist -- after all, art is subjective, so what looks good to you might not work for them. But James was kind, patient and helpful, suggesting I add a bit more shadow to the brows and in the sockets to intensify the look. Phew! A few more models and the show was about to begin, but not before we added a bit of the MAC Lip Erase (available to MAC Pros) to all of the models' lips to, well, erase their lips!
A few helpful tips: I found the best brush for getting this eye shape is a blender or crease brush. You know, the kind that has bristles that are packed into a tube shape with a rounded top? If you try this at home, apply the cream with a synthetic brush so it slides off of the bristles onto your lid with ease. Check out the final look below.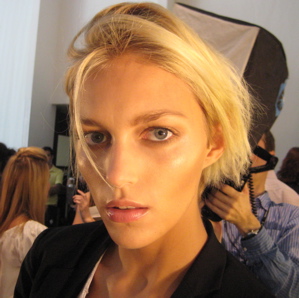 Well, I'm off to my next show, Thuy. More later ... wish me luck!