Seriously Sexy Legs -- In Only Three Steps!

Posted by Sarah on July 29, 2009 at 04:54PM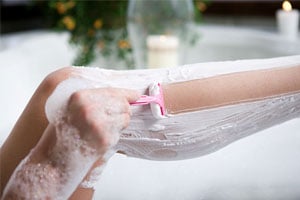 I don't know about you, but the past month or so of near-constant skirt/short wearing has meant daily shaving and my legs could use a little TLC. Luckily, I've found the steps to get myself back on track for soft, smooth, sexy legs. Because I don't want to spend this July heat wave in jeans, ugh!
Step 1: First, figure out your shaving style here. Personally, I'm a bit of a shaving slacker, so I was loving the tips to speed up the process.
Step 2: Now that you've id-ed your shaving m.o., get even more tricks to keep your legs silky smooth all the time. Here are a few of my faves:
To get an extra close shave, exfoliate the day before you shave. It will remove dead cells that prevent your razor from gliding smoothly over skin.
When we're rushed, the first thing we do is use quick, short strokes while shaving. This is a sure-fire way to miss spots. Instead, use long strokes and gentle pressure when shaving your legs. When you reach areas like your knees, stretch the skin as you shave it to make sure you get every single hair.
Before you hop out of the bath or shower, rinse your razor clean and make sure it isn't going to sit in a puddle of water, which can become a breeding ground for bacteria. Bacteria can cause razor burn and other skin irritations.
Step 3: Take this quiz to see if your legs would pass "the up-close beauty test." If you followed the steps above they totally should, but it doesn't hurt to double check, right?
• OK, so you've passed the up-close test, now how do your legs compare to these A-listers' gams?
• Guys love smooth skin (obviously). Find out what else they're crazy about here.
• Not into shaving? Find out the best hair removal method for you here.