Best and Worst Celebrity Makeup and Fashion of the MTV Movie Awards

Posted by Kristal on June 7, 2011 at 11:46AM

The MTV Movie Awards show usually has the most daring celebrity makeup and fashion of the entire awards show world. Celebrities often reveal more skin, wear bolder prints, or go all out with completely new looks because the younger, more fun awards show tries not to take itself too seriously. This is the night celebrity style can go wild.
This year was no exception and celebs jumped out of their style comfort zones, some more successfully than others. Check out the best and worst celebrity styles from Sunday night.
3 BEST LOOKS
No. 3: Emma Stone's Bottega Veneta dress and cat-eye makeup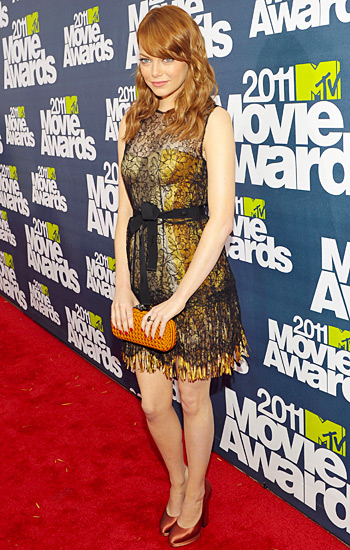 Now that she's done shooting "The Amazing Spiderman," she's back to her famous red hair color, just a shade or two lighter than usual. Emma Stone's Bottega Veneta dress was summer-chic and her cat eye makeup kept her look simple and classy.
No. 2: Emma Watson's Marchesa mini and sleek short 'do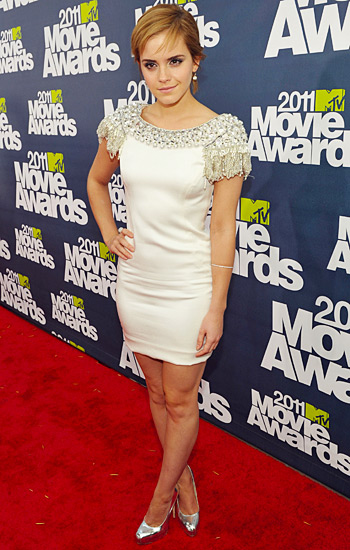 Emma Watson always has such great style on the red carpet, and this daring mini was no exception. The design on the collar and shoulders gives the white frock some edge. Her short hair manages to avoid that awkward "in-between" phase most pixie cuts suffer when first growing out, thanks to a side part that gives it volume while still looking chic. As the newest Lancome spokesperson, she's really polished her already gorgeous look.
No. 1: Kristen Stewart's Balmain mini and tousled hair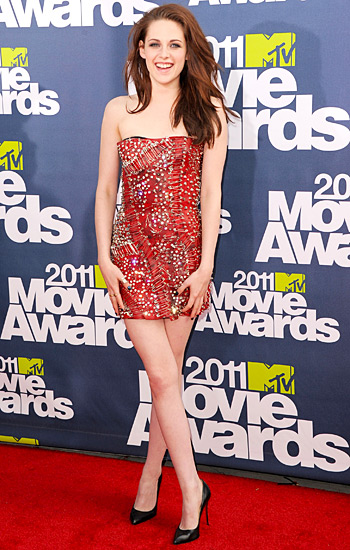 Kristen Stewart has that slouchy, rocker look down pat. This sexy mini-dress with safety pin accents is totally her style, and coupled with her tousled hairstyle and smoky eye makeup, she has finally learned how to be herself on the red carpet. The Twilight star's previous red carpet experiences were riddled with styles you could tell she felt awkward in because they didn't reflect her personality.
3 WORST LOOKS
No. 3: Hailee Steinfeld's matronly Louis Vuitton pantsuit and red lip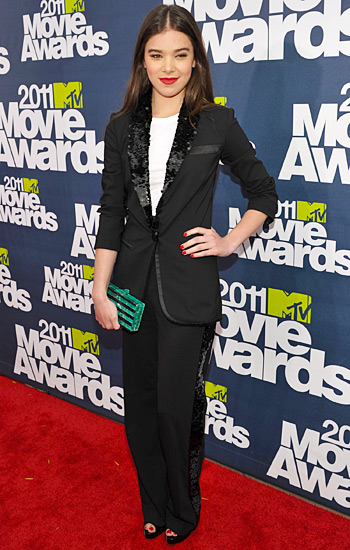 This would look great on my mother. I understand the 14-year-old actress wants to look mature, but this is overkill. The Louis Vuitton pantsuit adds 30 years to her and that bold red lip doesn't help any. She should take a cue from Chloe Moretz and Elle Fanning, who always dress so well for award shows, yet still look age appropriate.
No. 2: Amanda Bynes' Hervé Léger Bandage Dress, Teal Fringe Heels, and bad faux glow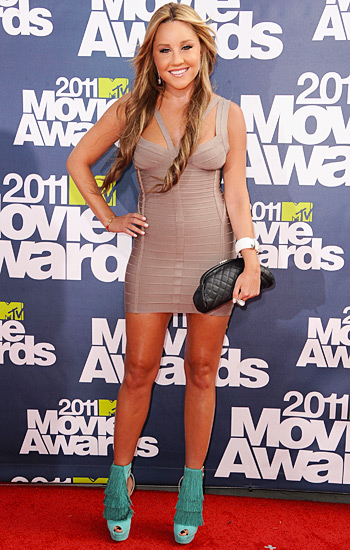 Amanda Bynes took a break from acting last year and it looks like her red carpet style is still on vacation. This Hervé Léger bandage style dress is not flattering and those Christian Louboutin teal fringe platforms are a mess. Her hair and makeup do look beautiful, but she's used just a little too much self-tanner lately and has an orange-y glow that isn't very natural.
No. 1: Jessica Szohr jumpsuit and natural makeup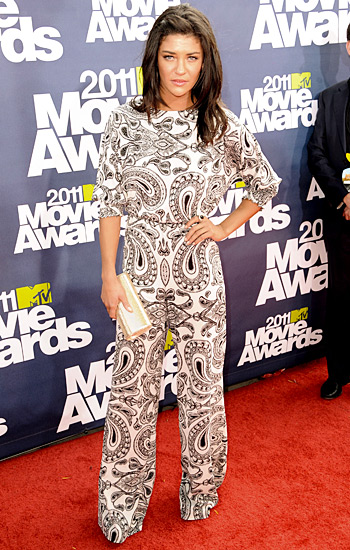 Do I need to give a reason why she ranks as the worst outfit of the MTV Movie Awards? Donning a paisley print jumpsuit (from Alice + Olivia) that's too long to even see a peek of her shoes, I feel the picture speaks for itself. On top of the outfit, her hair and makeup are a little too natural for a red carpet and don't do much to highlight how pretty we know she can be from her stint on "Gossip Girl." Jessica, honey, fire your stylist.
Did you tune in to the award show? What were your favorite looks from the night?