Are You a Sucker For Cutely Packaged Beauty Products?

Posted by Kristen on May 21, 2010 at 05:43PM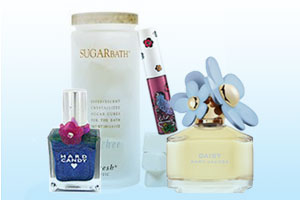 I love cute. George Clooney, Hello Kitty, baby bunnies? All cute. The eye-catching packaging on some beauty products (see top-rated ones here)? Ditto. But does what's inside get the job done, or are we just paying for the pretty exterior?
Sometimes, what you see is what you get. See proof in this list of 25 cute-on-the-outside products that really do what they're supposed to. Would you give in to buying them?
No. 18: MAC Lipglass, $14
MAC's limited-edition Give Me Liberty of London collection has turned its traditionally black packaging into a burst of Goth and floral fun. But, don't worry, the lipglass remains the same as it's always been.
No. 17: Burt's Bees Baby Bee Buttermilk Bath Pint, $15.99
Not only is the packaging Laura Ingalls cute, but this bath milk receives raves from users. One says, "this bath product is a great way to pamper yourself and it leaves your skin feeling soft."
No. 16: Hard Candy Nail Polish, $5
Hard Candy creator, Dina Mohajer, is no dummy. She knew how enticing an adorable FREE-ring-with-nail-polish-purchase would be to us girly types. And, she was right! But, it's more than just the bonus bling that has won over legions of fans. One reviewer says, "[They] have very unique colors that you can't find anywhere, and they stay on for a long time."
No. 15: Lancome Juicy Tubes 100% Natural Origin, $18
A perennial fave among the beauty set, this Lancome lip gloss received a makeover and now sports pink and gold flowers on its tube-y exterior. Readers love the new look almost as much as they adore the old gloss – why? As one puts it, " This is the best lip gloss ever -- great texture and flavor. But what I really love is that my hair doesn't get stuck in it!"
A sunscreen in squirt-bottle form? Sign us up. Readers say the lotion inside measures up to the cute exterior, calling it a "great mineral-based sunscreen," so double sign us up.
"These crystallized cubes of bliss are packed with natural, good-for-you-stuff with bicarbonate soda and citric acid, so they slough off your dead skin cells," says a reviewer. The fact that they look like they've been sent down from beauty heaven doesn't hurt either.
Discover the 18 other cute-yet-awesome products that have reviewers raving.
• With spring having sprung and summer 'round the bend, get your skin in tip-top shape with the best drugstore body lotions. And, stock up on some of these great sunscreens and hair conditioners while you're at it.
• Want in on a little beauty discount secret? See how to get great deals and offers on beauty products here.
• Keep up with the latest in beauty -- follow us on Twitter, add us on YouTube and friend us on Facebook.