Are Beauty Products a Rip Off?

Posted by Kristen on May 28, 2010 at 02:56PM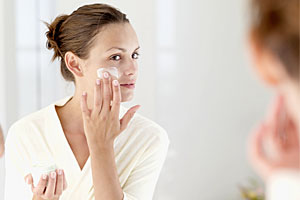 Sometimes I doubt that my anti-aging potions and lotions (like these beauty breakthroughs of 2010) actually work, don't you? I mean, I arduously apply 'em day and night, but when I don't see super measurable results, I can't help but wonder … are they doing jack for my imminent wrinkles?
I feel a bit better about spending my time and money on creams and serums and such after learning why skin care regimens work though. Here are some of the facts:
Helps you look 30 when you're 40
You might have super genes that give you flawless skin, but guess what? You can always make it look better. Especially as you age. And while you might not notice daily benefits of sticking with a skin care regimen, you will later on.
Prevents the need for major work
Botox, fillers like Juvederm, and surgery (of course), can take years off your appearance, but start a routine that includes SPF and products with ingredients like antioxidants in your 20s, and you likely won't need them.
Helps makeup look flawless
As you age, your skin loses its ability to rid itself of dead skin cells. That's why proper cleansing and exfoliation are important. If you don't do them, skin will appear dull. Worse -- you'll end up with dry, flaky skin that looks uneven under makeup.
Makes skin care treatments last longer
Just about any spa or in-office treatment will put a dent in your wallet -- whether it's a simple facial or a laser treatment. Luckily, you can maintain the results of those treatments by using a quality skin care routine religiously.
• Warning: If you don't take care of your skin, you could end up in our beauty hall of shame. Just kidding, but you've got to see the photos of
• Here are AM and PM skin care essentials you should try.
• Get loads and loads of
TEXT skin care tips including more anti aging skin care product recommendations.
• Want in on a little beauty discount secret? See how to get great deals and offers on beauty products here.
• Keep up with the latest in beauty -- follow us on Twitter, add us on YouTube and friend us on Facebook.