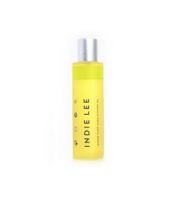 Indie Lee Nutrient Oil
As low as
Invigorating Scented Oil

The grapefruit scent was incredibly invigorating, and as you'd expect from a body oil, this product did successfully nourish my parched legs. My only gripes are: 1) if you don't love body oils (and the slippery finish they leave behind), this isn't for you 2) The instructions say you can use one to two drops, but I had to use much, much more in order to adequately apply it. And because it comes in such a small bottle, I feel like I'm going to burn through this stuff quickly.

Intoxicating Scent

The ylang ylang is such a dreamy scent. I'm not a huge fan of body oils, but this one isn't greasy and hydrated my skin. I love the natural ingredients. However, it's not what I'd reach for as a daily body moisturizer.

Back
to top