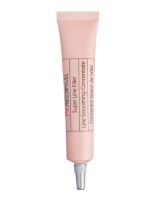 Prescriptives Super Line Filler
No Major Changes

I noticed some minimal smoothing of the ever-so-fine lines around my eyes. These things make me crazy and I am always looking for a miracle product that will erase them or hide them for good. I used this produce in lieu of primer or serum and got a rather smooth look. I would have rather this product be something I could use all over my face to help hold the foundation in place in addition to filling lines.

Just OK

I have been using this product for more than a couple weeks now. I have maybe noticed some slight changes in the fine lines on my forehead, but nothing dramatic.

Back
to top