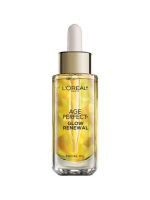 L'Oréal Paris Age Perfect Glow Renewal Facial Oil
As low as
HG Product!! - Calms redness/irritation + Shrinks cystic acne / zits by over 50%

I am a skincare fanatic and have tried everything out there from high end luxury brands to mass market drugstore brands. I have an Ivy League degree and also a graduate degree in business, and I do not discriminate on brands because I know that the mass market drugstore brands have large R&D budgets to work with, in fact many times larger than the luxury high end brands. I am of Asian descent, j...read moreust turned 40 years old, with truly classic combination, acne-prone and somewhat sensitive skin. I get hormonal cystic break-outs (forehead and temples but also extended to my cheeks and jawline when I was having hormonal issues but now just limited primarily to my forehead and temples), and have an oily T-zone with dry cheeks. My oily T-zone alternates from being dry and flaky to oily. I've tried all sorts of facial oils currently on the market (with the exception of any that contain mineral oil as that is pore-clogging and an absolute no-no for acne-prone skin). In the last 5 years, I have tried: Josie Maran Argan Oil, Kiehls Midnight Recovery Concentrate Oil, Clinique Smart Treatment Oil, Guerlain Abeille Royale Face Treatment Oil, Sisley Black Rose Precious Face Oil, Caudalie Polyphenol C15 Overnight Detox Oil, Origins High-Potency Night-A-Mins Skin Refining Oil, Origins Plantscription Youth-Renewing Facial Oil, MARULA Pure Marula Facial Oil, Tarte Maracuja Oil, Boscia Tsubaki Beauty Oil, Sibu Seabuckthorn Oil, KORRES Wild Rose Vitamin C Active Brightening Oil, not La Mer (contains mineral oil!), not Bio-Oil (contains mineral oil!), Physicians Formula Argan Oil, Sunday Riley UFO Ultra-Clarifying Facial Oil, Sunday Riley LUNA Oil, Clarins Lotus Oil, Loreal Age Perfect Glow Renewal Facial Oil, Loreal Age Perfect Cell Renewal Facial Oil Light, Loreal Age Perfect Hydra-Nutrition Facial Oil with SPF 30, as well as generic grocery store shelf oils like hemp seed oil, safflower oil, sunflower seed oil, grapeseed oil, avocado oil (moisturizing without being heavy), meadowfoam seed oil (moisturizing without being heavy) and rice bran oil (moisturizing without being heavy). All of these oils have been fine for me – they don't irritate my skin and they don't cause me to break out. But hands down, the only two oils of this list of over 20 oils which actually and consistently calm my skin down when I have redness/irritation are the Loreal Age Perfect Glow Renewal Facial Oil (not the light version however) and Clarins Lotus Oil. The Loreal Age Perfect Glow Renewal Facial Oil is amazing and the holy grail of oils I have tried. It actually shrink down my zits overnight by half or more when I rub in a drop of oil into the cystic acne (lightly patting/massaging until the oil is absorbed into the skin). Or during the day when I am at home and can skip make-up, I will do the same 2-3 times over the course of the day, and by evening, my skin is completely calmed down, the redness is gone and my acne has shrunk down by half or more and is no longer red/angry. There have been many times when I have been able to prevent a full-blown break-out by treating the area that looks like it could be starting to break-out. I have tested this amazing ability to shrink down zits many times over the last 5 years vs. other oils (whether cystic acne deep under the surface or zits that have come to a head), and it is a consistent result. I have seen some of the drugstores in my area discontinue carrying the Glow Renewal Facial Oil in favor of carrying the light version. That is a shame as the light version does not have the same calming and acne-shrinking effect on my skin. I hope Loreal never discontinues this particular formulation. It is amazing!

Great Facial Oil

Was a little skeptical about putting oil on my face since I spent most of my youth with oily skin but after one use I was sold. The directions recommend 4 0r 5 drops. I use 3 and that covers my entire face .After I spread the oil and it was absorbed there was no greasy residue. I liked the fact that this product contains essential oils. The fragrance alludes to the essential oils. Reminds me of the oils used with facials.

Back
to top