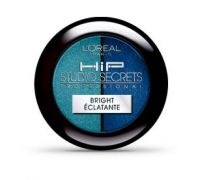 Super!

The colors are fabulous! They apply very well, but I would start lightly and blend in since the colors are very rich, you don't want to jump right in and over do it. Last long, simply stunning eye shadow!

They blend amazingly and are very pigmented...

I just want to say right off that the only reason I'm giving these 9 stars is because I wish that the color range was a bit wider… I tried these in "Dashing" (917) because it was the only duo with one sort of neutral color (but still a bit too "warm" for me) and black, which is always good to have because even if you don't use black shadow, it can always be used as a liner with an an...read moregled brush, when you need a subtle outline… But I didn't actually find the colors I was looking for and the color selection was very poor, in my opinion… With that being said, the quality of these eye shadows is amazing… They go on very silky and smooth, almost creamy. Their texture is so silky that they are extremely easy to blend. It just feels like you can apply only a tiny little bit and if you have enough patience you could blend this color out all the way to your eye brows if you wanted to… Not that anyone would actually do it, but this is how blendable these shadows are… And this goes for both, the "bright shadows" series and the "matte shadows", so my reviews for these two might be a bit repetitive... Both of the colors I got in my duo, the light sort of pinkish nude and the black are very pigmented and very easily to pick up with a brush because of their soft and almost creamy texture… I would recommend these especially for those who like the "smoky eye" look because you could achieve a perfect smoky eye with just two colors. When I used the black in my duo for that look, it looked like I had applied three different shades of black… I was so happy with the result – especially because it took me half the time it would have taken to actually use different shades and blend them all in… So yes, if you can find the colors you are looking for – I would most definitely recommend these… ;)

Wonderful!

The L'Oreal HiP eyeshadows are by far the best drugstore shadows available! These matte ones are so wonderful! They last forever on the lid, the colors are amazing, and I love that they have no shimmer or glitter!

Back
to top