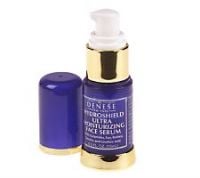 It's okay, but I found other products that work better

Feels a little bit greasy and it takes a while for it to soak into my skin. I have since found other moisturizers I prefer. Dior, Principal Secret, Philosophy.

great

My skin, and especially my face, gets extra dry in the winter time and before I tried this serum I was putting lotion on my face at least every couple of hours but now I use this in the morning and at night and my face feels as moisturized as it does in the summertime!

Love this stuf!!!

Ive been using this for about 2 years now. Ive tried sooo many other face products and I just love this! Its a bit pricey, but I buy when she has a sale or from QVC. Its non greasy and my skin has improved alot. I was beginning to have lines and a deep crease on my forehead and my skin has improved dramatically! I use this and the hyroshield eye cream and a few other of her products. My forehead c...read morerease is hardly there anymore. I have very sensitive skin and this did not make me break out like almost everything else. Great product. Goes on like an oil but sinks in to a great matte finish. I actually use this as my makeup primer and its the best. I used to have to spend money on other products, but this does it all. My primer is just sitting there, this is way better.

Back
to top