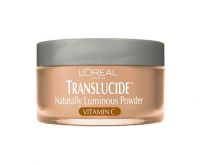 LOVE!

i wore this over my makeup and it gave me an amazing finish! this powder is really nice to blend because its so fine. it has a wonderful light scent that does not irritate my skin or dry it out. the first day i wore this, i got complements from a friend who said my skin looked really nice and glowy. i highly recommend.

I'm a believer!

I bought this powder for the first time last week and really liked it, but now I love it! I bought it in the translucent, so no matter my skin color, foundation, or tan it is perfect. I love the luminosity to the powder. The only reason I gave it a 9 is because I would like a little more luminosity. It is very subtle. You may not even notice it yourself. It is one of those things that others will ...read morereally like, but just can't put their finger on. It is also very light and non-cakey. I didn't really notice oil control, so if you are looking for that, you may want to go with a loose powder specifically designed for that. I also thought the powder was a little pricey - it runs just shy of $12. I would have liked to see it around $8. I am sure it will last a long time, though, so I am not complaining!

keep coming back to it.

I'm always trying new products looking for the BEST, but i keep coming back to this little drugstore gem. The luminous part may throw you off if you've had bad experiences with "glowy" makeups making your breakouts stand out more but that's not the case with this powder. It gives a healthy sort of glow to your skin but is totally matte at the same time which is a godsend for my oil-slick...read more of a face. Makes my face look airbrushed (my bf says my face looks super smooth and soft). It does contains mineral oil but i guess not enough to make you breakout cause i've never had a problem with it (and i've read that mineral oil actually doesn't make you breakout). The little puff it comes with applies it nicely or a brush is great too. I use light in the winter/spring and medium in the summer when i get tan. The translucent powder is perfect if you just want the matte effect without a little extra color coverage.

Back
to top