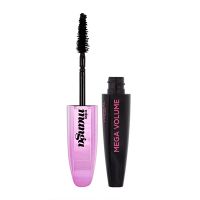 Like how it's a dryer formula....

I enjoyed the formula on this even though it is a tad clumpy but in a good way, not a bad way. It gives me that nice rocker chick look. I don't find the brush to flex too much on me but I could do without it. The Christmas tree shape of the brush is hard to control and very annoying. It also does not apply evenly with one swipe. I need at least multiple coats just to make my lashes look good. Love...read more the formula on this, just not the application. It doesn't flake or smudge. This is supposed to volumize my lashes and it really does. I got this in the limited edition color Purple Pop and I really wish L'oreal would have made it more purple. I could hardly tell the color was purple on my lashes. It just looked black with a hint of blue.

LOVE

I love this mascara, I love the brush, I love the formula, I love the packaging...I love everything about it. Now...about the brush. One other reviewer compared it to a Christmas tree...good description. The bristles are skinny and the applicator is really shaped like a long skinny Christmas tree. This works for me because I have small eyes. Those mascaras with HUGE brushes that everybody else jus...read moret loves like Last Blast, don't work for me...the brush is just way too big for my small eyes. The only drawback to the brush is that it's one of those rubbery brushes that goes "boing" when you flick it with your fingertip. I would prefer something more sturdy. Miss Manga gives my already long lashes lots and lots of good volume but there is a way to apply it to avoid clumps. I have used this method since I was 14 years old and started wearing mascara. I take the tip of the brush and apply the product close to the lash root, and then use the brush to sweep the product up through my lashes. I actually close my eyes over the brush to accomplish this…open, close, open, close, open, close. How I devised this method, I have no clue. Nobody taught this to me, all I know is that this is the way I have always applied mascara and this is the way to avoid clumps. I am a firm believer that 99% of success in makeup application is in the application method. You can take a top rated product that everybody loves and if you slap it on willy nilly, you will not get an optimal result. I usually buy waterproof mascara because I have oily skin and oily eyelids. I couldn't find Miss Manga in waterproof so I purchased it in the regular formula and I have had no problem with flaking, smearing or smudging

Volume building but a bit clumpy

I purchased the waterproof formula and was excited to try it especially with the cute packaging. While it does build volume and stays put all day, it begins to clump when I apply more than 2-3 coats. The wand itself is very flexible and it tapers so I can use the tip to get to my outer lashes. I will continue to use this mascara until it runs out but will probably try another to get volume without the clumps.

Back
to top