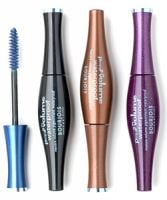 The BEST Mascara

Now that this mascara is not available at Sephora anymore I have to buy it when I visit Japan, which is fortunately often enough that I can get a new tube every two to three months (nicely aligning with the life-span of this product). Even though I repeatedly buy other waterproof mascaras (including another hard to find discontinued favorite - Chanel Drama Lash in Jet), this one has remained my fa...read morevorite for day-to-day use. I wouldn't say that it adds volume, at least not for me, but it does lengthen and separate and I never have to worry about too many coats creating that "mas-scary" look. My favorite part about this product is that when I curl my lashes it holds the curl most of the day, something that other waterproof mascaras often fail to do. My least favorite part, and the reason I only gave it a rating of four out of five lipsticks, is that it works best in the initial month after purchase - after two months it works, but not nearly as well. My favorite mascara. It lengthens, makes my lashes look fuller, and it doesn't smudge. It's also easy to remove, not like the cover's girl's lash blast waterproof mascara I just got. I think I loss some lashes trying to get that mascara off. Sephora stopped selling this line at their stores, so I've been searching for a mascara similar to this one or better. I've tried over a dozen mascaras, but I haven't been able to find anything that beats this one. I may just end up purchasing this online somewhere. My eye makeup tend to smudge very easily w/o udpp, and BB liner smudges on me, the only liner that doesn't smudge is MAC fluidline/liquidlast. So in the first place everything tend to smudge on me, so are mascaras and I'm always looking for non-smudging mascaras. This is the only mascara in my 20 mascaras(All bought less than 6 months ago) that I use everyday. It's WATERPROOF, and that's it's function. I use it to volumize my lashes after the first coat of other lengthening/curling mascara, it does not weigh down my lashes even if I apply a lot, nor does it clump or smudge. I'm able to use many mascara because I don't have to worry about whether it would smudge, bourjois does the trick! After using it for three months it looks dired up a little, I'm definitely looking for bourjois waterproof, volumizing mascara, maybe to try out another line but I'll stick on to this brand! People have been talking about clarins double fix mascara, but I wouldn't spend $5 more on just for the waterproof, no volumizing, and make my lashes hard like wooden sticks! my lashes arent that thick but they are kinda long. you wouldnt be able to telll the length really since they are really light, at the end. im asian. so my lashes arent all that awesome to begin with. but this mascara so far has been very good to me. i use a shu uemera curler and apply this and my lashes are nicely lengthened and wonderfully separated. not SO much volume. but its better than nothing. i also have lash injection from too faced and i like bourjois much better because it doesnt do the ugly flaky thing at the end of the day. however, TF does volumize better. but almost to the point of tarantula legs. i've had no problems with the waterproofness. its withstood 10 mile bike rides, pms fits, and fights with the boyfriend that leave me crying for silly reasons.

the best mascara ever

i try so many mascaras but Bourjois mascaras are the best the waterproof one. they don't smdug. they don't make blak circal under my eyes and they stay all day. ant the lashes look great.

Wow!! Now tell me where to buy it... I believe it has been discontinued...

I've tried all day long to purchase this mascara and it is impossible. How can it be the best when it doesn't exist? Where are you all buying this product?

Back
to top