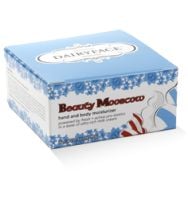 Dairyface Beauty Mooscow Hand and Body Moisturizer
As low as
Dairyface Beauty Mooscow

Took this product with me to Hawaii - what a lifesaver! Perfect aftersun cream - cooling and moisturizing, absorbs momentarily and makes sun-exposed skin feeling and looking great, even after an occasional too much time on the beach (with sunscreen, of course). First time in my life I come back from the holidays with an even golden skintone and not a blotchy red peel - thank you Dairyface! Had to keep it in our little fridge at the hotel :)

Dairyface Beauty Mooscow Hand and Body Moisturizer

I love this product....the texture is almost silky, not sticky and tacky like so many creams can be. The product absorbs quickly into the skin and smells wonderful. I am a huge fan and a daily user of the Dairy Face line...give the products a try and you will find you can be without them!

Back
to top