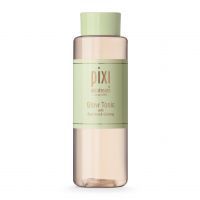 Pixi Glow Tonic Exfoliating Toner
As low as
Smooth Skin!

I absolutely love this toner! My skin feels very smooth and clear. I was expecting it to be a bit drying thanks to the glycolic acid, but not at all! It's less oily overall, but still hydrated. I will buy this again.

Nice Toner

This toner first and foremost has the best smell of any skincare product I have ever used. It smells like tea and freshness. And it makes my skin look nice and glowy, especially in the morning after cleansing. I don't know if it has the best long term benefits ever, but my cheeks do feel smoother and it makes me feel fresher and more awake. The smell is the best part.

Life Changing

I read about this tonic in a few places and bought it on an impulse. I've been using it twice a day for a little over a week and TRULY see a difference in my skin. It's more even, moisturized by the aloe in the toner and makes the products I put on over it (serum and moisturizer) work better. Plus, it smells great. I love this product!!

Back
to top