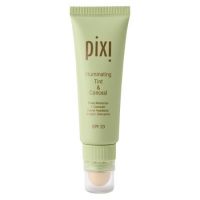 PIXI ILLUMINATING TINT & CONCEAL

At first I thought it was the tinted moisturizer for me. Nice light coverage and it didn't seem to overly emphasize pores/lines. BUT I discovered it was a tad too sparkly. I prefer to selectively add highlight, not have it all over my face. Almost a winner and the concealer was good for spot concealing. I was looking for a temporary replacement for Paula's Choice Sheer Matte Tint. I found that thi...read mores Pixi TM, as well as the new Too Faced BB Cream, have nearly identical main ingredients (and formula) as the PC SMT, the difference being some added botanicals and the mica for illumination/glow. I am very impressed with the Pixi IT&C, it actually matches my fair skin tone (in the lightest shade) better than the PC SMT (in the lightest shade). It really does give a nice glow without sparkle. And, as a nice surprise, the concealer actually works very well on redness/acne spots and areas of melasma/discoloration that need more coverage. It will also help conceal eye circles in a pinch, though it's a bit too dry to be ideal for this purpose. I am probably going to give the Too Faced version a try next simply because you get 50% more for nearly the same price. But I would definitely buy this again, even though it's a bit pricey. I've been looking for a good TM for a while, and despite the good reviews on here I was hesitant to pick this one up because of the price; I figured for that much money I may as well head to a department store and get some professional advice. Too bad I hate department stores and don't like dealing with salespeople, so after exhausting the most likely drugstore options, I picked this up from Target. And I am so glad I did. The coverage from this is light, probably about as much as everyday minerals but definitely more than other tinted moisturizers. It lasts me through a workday without touch-ups, and doesn't need a whole lot of powder to keep me from looking oily. This tinted moisturizer does a good job of evening my skin tone and covering up the redness in my cheeks without making it look like I have a mask on, which I appreciate. If I wanted to look completely flawless, I would need something a bit heavier, but this is perfect for everyday. As other reviewers have mentioned, there is some shimmer to it. The first time I applied it, I thought it was a deal-breaker, but it wears off pretty quickly and isn't too obvious unless you are under direct light. Packaging is a little annoying; I always end up opening the concealer when I am just trying to get to the TM. Besides that, it is hygienic and functional. My skin has never met a liquid makeup that it likes, so the fact that I haven't broken out yet is something of a miracle. Obviously I will update if I do, but for now I have to say that Illuminating Tint & Conceal is awesome!

Amazing....nothing better

I am a beauty addict, both of high end brands as well as drug stores. I have to use two full closets for my beauty items. That being said, this amazing duo had me at hello. My skin is light, and I got the bare skin one....it adds just enough color to make me look healthy. It blends right into my dry skin. I do put a moisturizer on underneath, as well as my normal serum and toner before that. ...read more But I use those everyday with other makeup a and none has left my skin feeling so breathable while still covering flaws. I barely even use the coverup part, but it is such a good coverup that I am shocked by that as well. My skin is dry, as I said earlier, and the illumination makes me look years younger. I was carded at a package store wearing it, the guy said I looked 18 at most (I'm 32 lol). Def a win!!

Get this for free!!!

Attention attention you could get this product for free!! On the app M E R C A R I all you have to do is download the app and when you sign up enter the invite code YDDFGP that's right YDDFGP and after your done go to your email and click claim my credit it immediately gives you 2 dollars and after having the app installed for 12 hours you get 5 dollars and after having the app for 24 hours you ge...read moret 10 dollars and then it goes back to 5 and then 10 and you use the free money to buy tons of things for free!!! Including this product right here!!

Back
to top