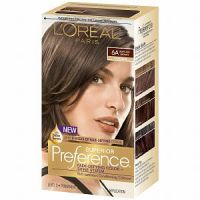 Good, Soft, Long-Lasting Color

L'Oreal's "Superior Preference" is one of the best home hair colors available. It does indeed resist fading, has shine-extending conditioning, and leaves hair soft, manageable, and not "fried." I was completely surprised when I noted that some new brands recommend not coloring hair during your cycle or if you are considering becoming pregnant. What toxins must they contain?

Nice Product

Been using this one off and on for years. Will continue to do so. Nice color, great conditioner comes with it.

Long-Lasting!

This hair color is long-lasting, leaves your hair shiny and healthy looking, and is easy to apply. The Superior Preference hair color is reliable and works really well.