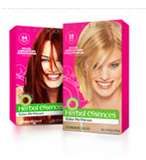 allergy alert

I'm so glad I tested this on my hair before using the whole thing. My hair was itching like crazy and I've never had a reaction with any other coloring before.

Risk Taking? Here It Is, Try It

Herbal Essences have stunning shades that seem to radiate from the photos but what is difficult for me personally is coloring over dark brown hair and actually ending up with a result even similar as portrayed. The reds come out nicely as a highlight when the sun rays hit my hair and it reflects color and it does the same with golden colors but I'm afraid I'd have to give a thumbs down to certain...read more colors as I've found some delivered better results than others and others hardly at all. If you're dark brown or black haired, the blondes and light auburn shades would almost be impossible to reach unless you've went over it with the same dye a couple more times to lighten it or bleached it first but it damages hair to be colored and recolored all in sessions crammed together. The golden brown color comes out dark on me but a couple weeks later and shampoos, it becomes closer of a shade to the picture on the box but never exactly. I ended up having three shades darker than the preferred result but all together it was still worth the try since some dyes hardly even tint my hair and the colors shimmer instead of being flat and dull.

Awesome! :) Works Great

I was using this color (66) after a summer of having bleached blonde hair and teal ends. Naturally my hair is dark dark dark brown, but not quite black. I had a lot of root growth and the Chocolate Velvet seemed the closest match. I started seeing results almost immediately, and I'm in love! This color is a perfect match to my natural color, my hair doesn't smell bad, and it's so incredible soft!