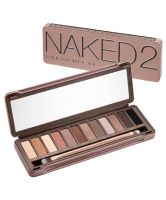 Prefer it to Naked I

While I love the first Naked palette, I am even more impressed with Naked II. As Volta wisely notes again, the brush is much improved. The colors are cooler and generally of a gray/taupe variety, more flattering for my eyes. There are some new hues, unique to this palette alone. I love the plush, silken texture of the shadows and the way they wear for such a long time. I also love the fact th...read moreat I can swipe some on just to run errands or sit down with a plethora of brushes to create a sensual, smoky eye. The primer is good, although not my favorite.

As good as Naked Palette I

I love this palette because of the color saturation of the shadows. You can mix them together - 0ne over the other for a unique color, create a nice smokey eye and the shadows stay on!! They don't move around even without the primer. Sometimes I forget the primer and I am pleasantly surprised that the shadows last all day and night! I highly recommend this!

Lovely!

It seems like Urban Decay gets better and better with each new palette! I'm thrilled that UD has worked on some issues that fans of the original Naked had made. First off, the brush included is much better; now it's a double ended brush that spreads and blends much better than the original flat brush the first palette had. Second, I like that this comes with a lip gloss instead. I feel like I migh...read moret get lynched every time I tell someone I'm not the biggest fan of the UD primer potion. Don't get me wrong, it's a great eye shadow primer, but I prefer others. The lip gloss shade will look good on everyone because it's the perfect shade of sheer neutral pink and it's perfect for keeping it in your purse or pocket. As far as the colors go, I am a big fan. I also like the tin packaging--much better improvement and far cuter in my opinion. For at least a month when UD originally released the first photos of the Naked2 palette, I was debating whether or not to bother buying this palette. I assure you that this palette looks MUCH better in real life. My favorite two shades are "Pistol" and "Verve" which are beige-y silvers. Some people complain that "Half Baked" shouldn't have been revived in this palette since it was featured in the original Naked palette. However, Half Baked was my favorite shade in the first palette so I'm not complaining! Blackout was featured in the previous 15th Anniversary special edition palette, but I think it's a good inclusion to have in a palette. This palette is much cooler in shades as opposed to the original Naked which is much warmer. That's why I prefer Naked2 in winter/spring and Naked in Summer/Autumn. However, you can rock either any time of year!

Back
to top