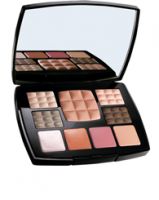 Chanel--Perfection in a Palette

I have a palette-loving soul. Yes, I have been drawn to eye shadows, blushes, lipsticks, and lip glosses since an early age, but when you put them all together in a palette, I find them nearly impossible to resist (this past Christmas friends bought me palettes and I bought myself three!). This was a gift from my husband, who is my palette-loving soulmate. He understands my love of beauty, of c...read moreolor (and of painting, my favorite avocation). I nearly fell over when he bought this for me, and I was thinking of picking up another on Amazon or eBay because I am nearing the end of this one (and for the sake of cleanliness, this one should be thown away). "Gorgeous" is an understatement for these colors. The shades are perfectly coordinated to work together in an understated manner (that doesn't mean that you can't use them for a night of all-out glamour!). Let's start with the eye shadows--plush, finely-milled shades with some sheen in creamy champagne, tender pink, a taupe/copper mix, and brown. They go on gently, and coverage is buildable. These shadows, with their wonderful texture, are also quite blendable. You can create a multitude of different looks with them. I'm not a huge bronzer fan, but this shade is relatively neutral, completely natural, and makes me look like I've taken a walk in the brisk air. It mixes right into my skin. I use it as a blush and then fluff a bit over my forehead, the bridge of my nose, and then over my chin. The lipsticks have a matte finish but come in lovely shades, red and a pink/coral. I often mix them for a surprisingly flattering hue. And I always use them with the incredible gold-infused lip glosses. This palette is certainly a splurge. I wish it had a foundation, concealer, a tiny mascara, possibly an eyebrow pencil, and brushes and tools for on-the-go use, but it's hard to complain when you possess something so very lovely and unforgettable. Oh, why am I still sitting here typing? I should be picking up another one instead!

Chanel Collection Essentielle De Chanel Multi-Use Make-up Palette

This is one of the most versatile palettes I own. Everything is pretty neutral, it would suit anyone and the colors are beautifully coordinated. I love the size, it fits in my bag, as well as the little velvet pouch it comes in to protect it. The blush is gorgeous, and nicely pigmented and is very silky as well as buildable and blendable. It leaves a very natural finish to your skin. The eye ...read moreshadows are lovely, nicely pigmented, very smooth while applying, blendable, buildable, and long wearing. I found no creasing, fading or sliding after hours of wear. The lip products are very nice too, they are creamly and long lasting. I hardly had to retouch, and I had no feathering or bleeding. I also mix the colors up and get a new look, this is such a great product with so many different looks in it.

Great

I like it ..

Back
to top