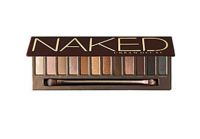 Palette Perfection for Every Woman!

If there were such a thing as a rehab clinic for those addicted to cosmetic palettes, I would be the first to sign up. I just wonder--would a thirty-day treatment plan be enough to cure me of my color mania? When I was in high school and my sister had her first job during college, she bought me a range of lip glosses which smelled as good as they looked. I still remember opening her no-occasion...read more gift and dancing around the house. I used every bit of those glosses and was the envy of my girlfriends. Some other notable palettes I had were from Ultima II (when they created "kohl" hues--smoky, seductive shades) and Borghese (I wish they had not abandoned their eye shadows, as they were deeply pigmented, vibrant, and wonderful). I have to admit that I wasn't completely "sold" on Urban Decay's "Naked Palette" at first ($50.00 at Ulta or Sephora, with a small size of "Primer Potion" included). The shades appeared too much the same, possibly--should I say this?--bordering on boring. But this palette is anything BUT boring. The hues come in a range of finishes, from matte to gentle shimmer to all-out glitter (wearable glitter, however). You can create a look which is perfectly becoming for the office or running errands to one which is all-out glamour for evening. Some of my favorite colors? "Virgin" (tender shimmering beige) is great as a base all over lids and useful for blending with others (UD's formula slips on very easily, making mixing a breeze). "Half-Baked" is a gleaming golden dream, especially when used with "Smog" (medium bronze) and "Darkhorse" (a glistening, delectable deep chocolate). "Toasted" is a lovely pink-bronze and works very well with "Hustle" (decadent deep purple). "Gunmetal" gets into glowing gray, for the ultimate "smoky eye." This palette, along with UD's "Naked II," is never far away from me. It's worth the price and flattering for every woman's complexion. A suggestion: Nix the applicator included and work with brushes to make the most of this set.

Urban Decay Naked Palette

This is so perfect for summer. Everyone will love this with tanning products and bronzers. Go to the UD website - look at the Palette they have for fall!

BEST thing ever

There isn't a SINGLE skin tone that will look good with this. This is the BEST palette that UD had ever made. It is worth EVERY penny. The brush that comes with it isn't very good, but it's free. The combinations are endless with this.

Back
to top