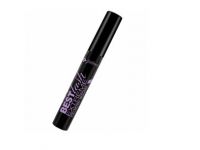 Whoa!

I certainly wasn't expecting much from this mascara when I picked it up. But I said, "Well, it's only $3 and I need something until I repurchase my usual mascara". And let me say, I never did repurchase my usual. This mascara is amazing! It's so dark, and does so much to lift, lengthen, and volumize my lashes, I can't believe it wasn't created by a high end company. My standard, straight, and thin...read more Asian lashes have finally met their match! The brush isn't anything particularly special (just the traditional brush bristles in a spiral), so it's all in the formula. It certainly is not a natural-looking mascara, but it's great for a night look or something dramatic. Though I must say, for the ladies who like to layer and brush on many coats, this may not be the ideal mascara because of the formula's thickness. It only takes a couple brush-through's to coat all the lashes and volumize. So, many coats would actually create spidery and spikey lashes not to mention loads of clumps! There are no flakes or smudging after a long day, but it also does to disappear a little bit by the time night rolls around. It's hard to say if this is Jordana's waterproof formula (though the second ingredient listed is Beeswax), but if the company does decide to release a waterproof version, it may be to die for!

Not my favorite

I liked the brush on this and the price. It was only $2.99 at my local Walgreens. However, I find that the formula is not very volumizing for something that is marketed as such. It does lengthen but I find it a bit to sticky so it makes my lashes look sparse and clumpy with weird little knobs at the ends. It is very black, though. I did also find that it makes my lashes really hard and crispy whic...read moreh is probably not the best for them. But for the affordable price and in a pinch it's doable. I just wish it would have given me a little more separation. However, it does hold a curl very well. Not as good as my CG Lash Blast Volume which is my HG and gives me curl, volume, and definition. But, it's okay.

My Fav Mascara of the Moment

Almost every mascara clumps on me. It is a fact that I have come to accept. But this cheap mascara does not clump! I use it everyday for a 'my lashes, but better' look. That being said, it doesn't necessarily provide extreme volume, so may not be the go-to for a more dramatic eye look.

Back
to top