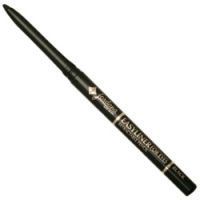 Pigmented

These jordana eyeliners are awesome, they glide on easily and are fine enough for beaitifully lining the top lip as well as dotting between lower lashes for a full effect without using mascara. I def recommend picking up these in all different colors!

Lasts All Day and Stays in Place

For the price, Jordana's eyeliner is truly phenomenal. It performs better than my Neutrogena eyeliner and even some of Sephora's eyeliners! I have annoying eyelids that smudge all of my eyeshadow and eyeliner within minutes of application, but out of all of my eyeliners, this one had minimal smudging, stayed vibrant through my 13-hour day, and stayed in place instead of making raccoon eyes. Also, ...read morethe color selection is fantastic, the packaging is simple, clean, and convenient, and the eyeliner glides on smoothly and easily. It's not as creamy as other eyeliners, but this one really will not budge or smudge. The only reason this eyeliner is not 10 stars is because there's not very much product, but for the price, there's just no beating this eyeliner.

Fantastic drug store find!

I saw this in Walgreens one day and these reminded me of Avon's Glimmersticks, but cheaper. I figured a couple of bucks is ok to lose if it sucks. But much to my pleasant surprise, this is one of the best eyeliners I have ever wore! I especially like the dark blue one. I think it is called Denim. This really makes my brown eyes pop and makes me look more vibrant and awake! It was adorable for the ...read more4th of July too. I wore this with red lipstick and it was perfect. These just glide on and last all day without Alice Cooper eyes later. And I love that I never have to sharpen it,always a perfect point. I am planning to get all colors.

Back
to top