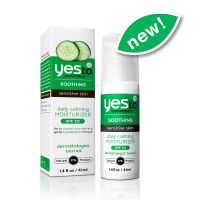 won't re - purchase

I wanted to love this since it's organic but it was just too thick making it hard to rub all over my face and it actually makes my face look more pale then it already is. I like other products from this line but this just didn't work for me. The only thing I really liked was the cucumber smell.

Great

I have very sensitive skin and any other product with SPF make me break out, I do agree that it is thick, however, if you only use a small amount and rub on your finger tips first to spread it out then all over your face it works like a charm. This is the first product I found that has a high SPF that agrees with my skin. I LOVE this product, and not to mention its 97% chemical free and organic certified !!!!

Really wanted to like it...

For years I've been using chemical sunscreen, but I want to make a change and switch to a physical sunscreen. I read something good about this moisturizer (and this brand) and decided to give it a try. Very disappointed. Its texture is too thick and I have a hard time rub it evenly on my face. It leaves behind the white patches all over my face and not even any makeup can cover it up. I'll have to keep searching for that perfect moisturizer with physical sunscreen.

Back
to top