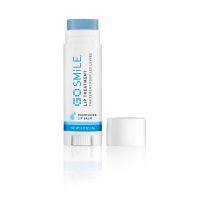 GoSMILE Lip Treatment
As low as
YUCK

worst stuff ever

Dentist Recommended!

This balm is recommended by dentists as having the ability to make your teeth look whiter with the slight hint of blue tint to the balm. The scent of the balm actually helps fight bad breath. I don't mind this lip balm, but sometimes I do like a little color in my lipglosses and balms, so I don't wear it all the time. Great balm for taking pictures as it does help with making your smile shine!

another bad choice

this goes on pretty well, but it didn't make my lips any softer. basically it made the chapped areas of my lips shiny, but still chapped. when it wore off my lips felt super dry and i had to use aquaphor to make it feel comfortable. it smelled a little bit like plastic. i liked the packaging and the mirror is great, but i threw the thing away after a few applications b/c i was so frustrated with how bad the balm was.

Back
to top