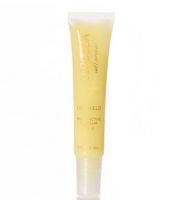 totally worth the price!

I have a hard time spending too much on something like lip gloss but my lips get very dry in the winter and I have found nothing besides vaseline that helps, until this! I always have at least two bottles (in case I run out and need it before I can get more!)

Surprised

I liked the packaging. It was sturdy and understated. On my lips the balm covered my slightly darker lips with near opacity. On my fair skin my lips sort of disappeared. It might work well over a lipstick. The formula of this lip shield contains a spf of 8. I don't think that is especially amazing but it's better than nothing, right? LaRocca claims "This balm, made with Hyaluronic Acid...read more and Camu Camu, is specifically formulated to deeply moisturize and nourish the skin while helping in protecting against germs and bacteria." I have no idea if I have been protected against germs and bacteria, but it is nice for piece of mind. It smells really nice, like a wildberry jolly rancher. It is the middle of winter right now and I figured, what better time of the year to test a "moisturizing" product than a cold dry winter. I wore it for 4 days straight before I had to stop. This balm made my tender dry lips no more moisturized than using a beeswax only gloss like Chubby Chap. I had to switch back to using my Blistex for a few days and then back to my NYC Liquid Lipshine once my lips could handle a gloss/balm again. I will try it again in the spring when humidity is up again but for now it is going in my "do not use" drawer (which will be my trash if I try it in the spring and still don't like it). This product would probably be just fine for someone who doesn't get horribly dry cracked lips that sometimes break open even with the best care, but for me it just doesn't work. As such I'm surprised at all the love it has received.

LAROCCA ROCKS!!!!

I love all of the La Rocca products and their lip shield is no different! It moisturizes without feeling greasy and it also has sun protection. They have, I believe four colors and they are very natural looking. The best thing about the product is what it does for your lips and that is make them feel great and look great! I give this product a ten plus!!!!

Back
to top